The Park Lane's Peter Gust Economou
Peter Economou was born in Salonika, Greece, in 1895. He was the third son of what would be twelve children. Because raising money for dowries for daughters was a family concern, Peter's two older brothers (Xenophon and Constantine) went to America where opportunities to make money abounded. They came to Buffalo and were working at waiters in the Lafayette Hotel when it was decided that Peter should also emigrate. In March, 1909, he sailed for America at age 14. He was nearly six feet tall with thick blond hair.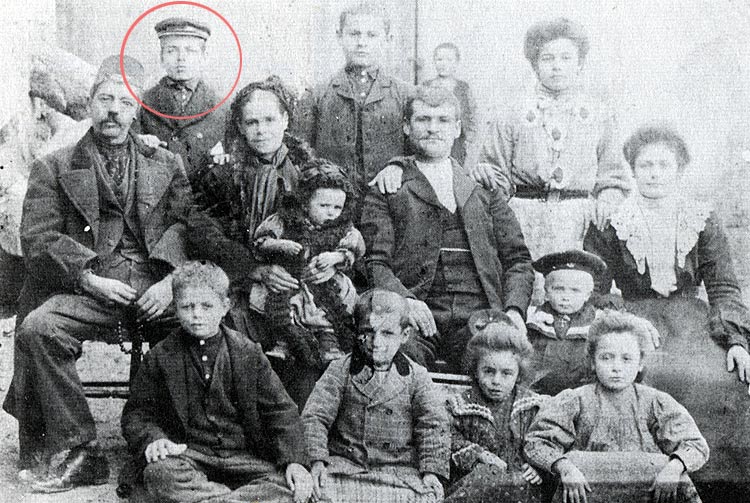 Family photo, c. 1906. The red circle indicates Peter, age 11. Image source "Your Host Peter Gust"

The Lafayette Hotel as it appeared in 1914.
Image source: private collection.


The Lafayette Hotel was one of Buffalo's first class hotels with a correspondingly formal employee hierarchy. Although he was enrolled in school when he arrived in Buffalo, Peter's education ended a few months after his arrival. His brothers obtained a job for him as dishwasher at the Lafayette, the lowest level job in the hotel's food service section.

Two months later, Mr. C.R. Eldridge, manager of the Lafayette, observed that Peter was "dining room material" and promoted him to "silver boy." This task entailed carrying used silver flatware down 20 steps to the kitchen and returning with fresh silver for ten hours a day. He turned over his pay, $4.50 plus occasional tips from busboys, to his brother; these were sent home to the family for their sisters' dowries.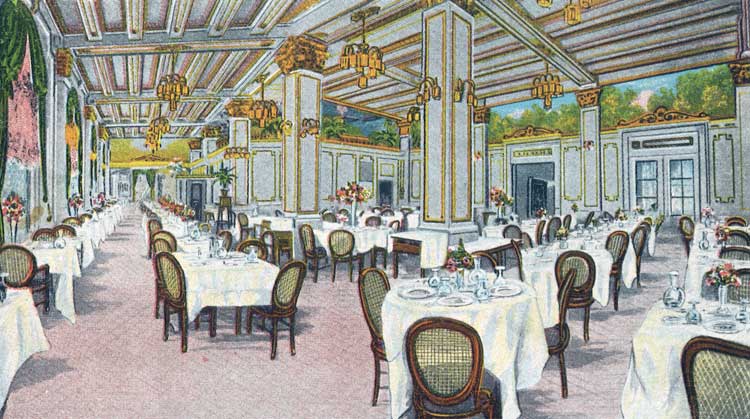 The Lafayette Hotel's main dining room. Image source: private collection
Peter's brothers prepared him for the position of waiter, which required years of apprenticeship and written proof of service at each consecutive position. Because they paid well in tips, waiter jobs were in high demand. Just before he left the Lafayette, Peter had begun to work as a room service waiter.
In 1910, brother Constantine went to the Hotel Statler, and Peter followed him. At this time, Peter acquired his middle name, because he was the brother of "Gust," nickname for Constantine. He would become known as Peter Gust Economou.
The main dining room at the Hotel Statler (Swan & Washington Street), c. 1910. Image source: TBHM
The Statler management assigned him to dishwashing again. He later said, "I can remember looking through to the dining room one evening, and wishing so much I could be out there. The room was filled with men and women in evening clothes, shaded candles and flowers were on the table, and there was music. It seemed so beautiful to me, and I felt so frustrated; I knew I belonged there."
A few weeks later, he was promoted to silver boy; three months later he was busboy. "You could not get me out of the dining room," he recalled. "I liked it so much I would have worked for nothing." At age 16, he was a regular room service waiter, and then he went to the Lenox Hotel to acquire the polish required of a waiter in a first class hotel. In 1913, he returned to the Statler as a dining room waiter.
Aside from a year's leave to help start Buffalo's first cafeteria, The Presto, Peter Gust Economou continued to establish a reputation for service. In 1923, at age 28, he became the maitre d'hotel of the Hotel Stater, the highest position in the service sector, equal to the chef, second only to the hotel's manager. As his biographer summarized the position, he was "the czar of the dining service, host of hosts, responsible for service of food and beverages and maintenance of the dining room."
And then, in the fall of 1925, he agreed to operate the new Parke Lane restaurant at Gates Circle (described here). He said later, "I was maitre d'hotel, headwaiter, steward, banquet manager" when the restaurant first opened. He hired the chef and also went to the market every morning to purchase the food. He decided to remain at the Parke Lane, summing up his reasons thus: "It was the combination of the challenge of the position and the beautiful setting, small, intimate, so different from the atmosphere of a large hotel, that made me stay."
Formal portrait of Peter Gust Economou, 1929, age 34. Image source "Your Host Peter Gust"
After Prohibition ended, the Park Lane remodeled and opened its colorful Bacchante room for entertainment. In 1936, Buffalo men's tailor, Otis M. LeGate, suggested that Peter Gust, as he was now called, take on some color personally. He made a sky blue tuxedo coat for Gust, accompanied by midnight blue trousers, cummerbund and bow tie. This was the first of many sartorial displays by the manager that added to the cache of the Park Lane. Mr. Gust also kissed the hand of women guests and addressed them as "Madame."
Executive Chef Anthony Cianciosi and Peter Gust, c. 1979. Image source "Your Host Peter Gust"
Peter Gust maintained excellent working relationships with his chefs over his career at the Park Lane. He respected the separate sphere of the chef but also learned about food preparation and display from each. As one said, "He brings fire and magic to the kitchen."
Over his 60-year career at the Park Lane, his service and involvement with national and international food and hospitality organizations brought him increasing accolades. He served as president of the International Food Service Executives Association. He was installed in the American Restaurant Magazine Hall of Fame in 1952, and in 1958 was awarded the Golden Plate Award as "Food Service Operator of the Year" by the Institutional Food Manufacturers of America. As his Buffalo News obituary noted in 1993, "[his] honor's included honorary doctorates, Escoffier gold medals for his food and restaurant industry efforts, a citation by the National Conference of Christians and Jews, and citations for contributing to the enhancement of both Army and Navy food service programs...In 1953, he was consulted on preparations for state banquets in connection with the coronation of Queen Elizabeth II..."
In 1959, he was forced to accept an award that he himself had established in 1953 to annually honor a member of the Executive Stewards and Caterers Association for "Outstanding Contribution to Progress and Welfare." And in 1968, he was awarded the first E.M.Statler Award for "worldwide contributions to the hotel, restaurant, and food service industries."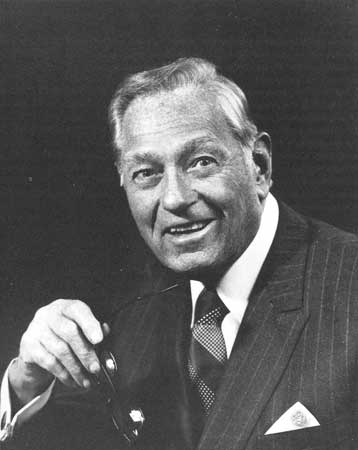 Peter Gust c. 1979, age 84. Image source "Your Host Peter Gust"
"There is no such thing as a demeaning job. There are only jobs with opportunities."
From 1956-66, Peter Gust served on the Buffalo Board of Education and as its president in 1959-60. In 1960, the Buffalo Evening News named him Man of the Year. And in 1970, he and Alice Siedler Statler, widow of E.M. Statler and chairman of the Statler Foundation, created the food service program at Emerson Vocational School in the new Statler Wing. It continues to train chefs, cooks and bakers. In 1981, the Buffalo and Erie County Historical Society awarded him its Red Jacket Medal, established to honor a local citizen for distinguised civic contributions.
Gust made a gift to Canisius College in 1987, saying that he "wanted to give something back" to Buffalo. The college named its Student Center dining room, Economou Dining Hall, in his honor.
On his 90th birthday, he was still working. The News quotes him as saying, "I don't want to retire as long as I can see and keep my mind. I want to kiss ladies' hands as long as I live...I need to be around."
Peter Gust Economou died August 19, 1993 at the age of 98. His wife, the former Isabelle Foster, died in 1981. They had no children.
To read a tribute to him by Karen Brady, written in 1971 immediately after the fire that destroyed the original Park Lane, look here.
To read about the Park Lane Restaurant,follow the link below.
To go back in time and see the Porter Norton Mansion, follow the link below.