Medina's Apples
---
Jospeh B. Achilles, Orleans County historian in the early 20th century, said that apple growing began there in 1805 when a sailor from a lake boat gave an apple to Rachel Lovewell. He said that an apple tree grown from a seed of this apple was the first recorded apple tree in Orleans County.
True or not, early settlers recognized that the narrow band of land along Lake Ontario between Niagara Falls and Oswego, no more than 10 miles wide and bounded by Ridge Road, was ideal for growing fruits. The cooler winds from Lake Ontario delayed ripening of fruit which made for better winter storage. Apple orchards began to be planted by homesteaders for their own use in the 1820s. But by 1845, demand for winter apples from settlers in the West spurred farmers to plant orchards for commercial uses, and of the type of apple then in demand, Baldwin and Greening.
Scene in one of Clark Allis' Medina orchards showing picked apples barreled on site, c. 1910. Image source: private collection
The period from 1860 to 1879 saw widespread planting of orchards. By 1880, when the trees began to mature, the apple industry began its boom period. Apples in New York State were picked directly into barrels in the orchards, a type of storage and transportation method that would persist well into the 20th century. This required that cooperages be close at hand; Shelby had a large industry in barrel-making. A basket factory in Middleport came later.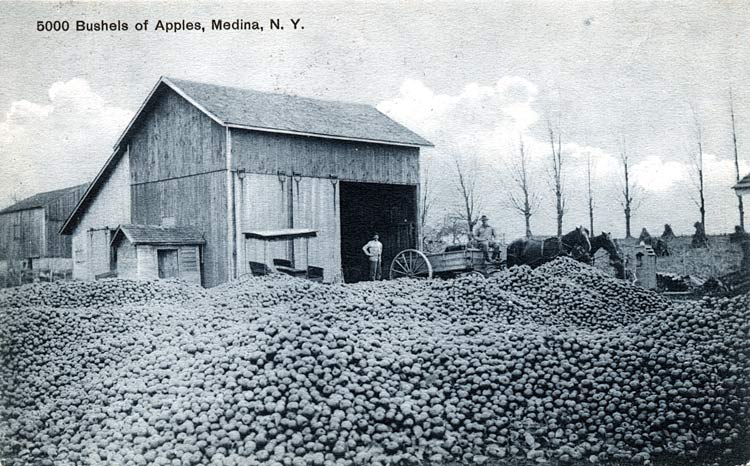 Piles of harvested apples, c 1910. Image source: private collection
Industries in processing apples followed. The best grade of apples were shipped by barrel to markets. The second-best grade were slliced and dried in evaporators, large buildings warmed by a fire, for shipping on the Erie Canal or the railroads that crossed the county. The poorest quality apples were made into cider or vinegar. By the end of the 19th century, Medina had several large vinegar factories, one of which was The Heniz factory. Established in Medina in 1899, it was the 7th branch factory for the H.J. Heinz Company at that time.
Barrels of apples along the Erie Canal in Medina awaiting shipment. Image source: private collection.

Clark Allis, 1919.
Image source: NYS Fruit Grower, March 1919.

One man stands out in the historical record of apples in Medina. By 1917, he was called "The Apple King" of Orleans County. This was accurate. He began as a 24 year-old young husband and father with a farm of 82 acres two miles east of Medina. By 1912, he had purchased additional fields and farms, accumulating 500 acres of land, 150 acres of which was in orchards, primarily apples. Active in local and state fruit grower and horticultural societies, he continuously looked for ways to increase his yield, cut costs, and efficiently deliver his fruit to market at the highest price.
When the trip to the New York Central railroad station two miles away from his farm cost him too much in time and labor, he persistently lobbied the rail officials for a siding near his farm. He achieved it though he had to pay for the construction.
He looked at the few early cold storage facilities in the Medina area and saw that they charged too much for storage and they also sold the apples for a premium during the winter and spring months, all income lost to the grower. So he constructed his own cold storage warehouse on his farm in 1912 between the Buffalo, Lockport and Rochester electric trolley line and the New York Central rail line. This gave him quick access to both means of transportation and allowed him to offer cold storage to other growers.
He also had his own evaporator, effectively eliminating the middleman in every way possible.
Ever the early adopter of technologies, he had acetylene gas generators to light his home before electricity was available. He owned a 1906 Maxwell automobile, one of only 26 autos in Medina, and in 1914 purchased a 6-cylinder Vielle automobile, necessary for a man ever in a hurry.
Allis Cold Storage Facility, c. 1913. Image credit: Medina Historical Society.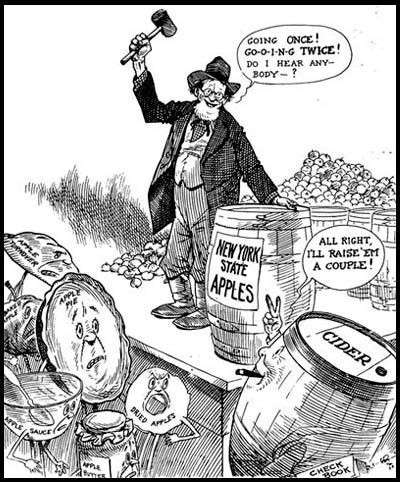 Cover cartoon of the January, 1920 NYS Fruit Grower. Image source: internet
Clark Allis was vice-president or president at one time or another for the NYS Agricultural Society, the Orleans County Fruit Growers, the NYS Horticultural Society, the NYS Fruit Growers Association. He also became active in politics, running for Lieutenant Governor on the Prohibition line in 1912 and, in 1922, for U.S. Representative for the 34th district on the Prohibition line. He won neither election.
Prohibition seems to have been Allis' focus, whether from personal conviction or potential business advantage. Apple growers saw themselves becoming the winners in the Prohibition fight because there was no law against sweet cider which, if a consumer stored it, became hard cider. Indeed, until the mid-19th century, cider had been the most-consumed beverage in the United States. Allis championed a return to prominence for cider, which would require his apples. In 1919, after Prohibition took effect in January, Allis constructed a cider processing plant and pasteurizer for large-scale production of cider. Allis was quoted in the March, 1919 publication of the New York State Fruit Growers as saying, "The apple is without doubt the King of fruits and the juice of the apples King, Queen and the whole royal family of all beverages."
Allis would devote a great portion of his time and resources the production of cider. As the cartoon at right illustrates, the national fever for cider drove prices up while other apple markets worried about its effect on them. History shows that this gamble by Allis and others did not ultimately succeed.
Clark Allis died in 1935 at age 70. His son, James, had been brought into the business but died of meningitis in 1913 at age 26; there was no one to carry on the business. Allis sold his cold storage business to the New York Insecticide Company in the 1920s which built a plant on the site of his building to manufacture pesticides used by growers.
Today there is no "apple king" in Orleans County, but 60% of the county remains dedicated to agriculture. The apple industry in upstate New York declined after World War I, when citrus fruits entered the market and other regions of the country began to enjoy commercially-produced apples closer to home. Profits in the apple business remained slender and this drove many orchard owners into other types of farming. Still, 130,000,000 pounds of apples are today produced in Orleans County each year.
Many thanks to Catherine Cooper and Georgia Thomas of the Medina Historical Society for their time and assistance with this story.