George B. Hayes, 1893. Image source: Our Police & Our City
George Burrell Hayes was born in Rochester, NY in 1842, but traveled a long way to reach Buffalo. His father was a successful fur merchant but suffered during the financial depressions of the early 1850s. As a result George, aged 13, had to leave school and become a wage earner. He went to Cleveland and learned telegraphy, working there and Indiana until 1861 when he came to Buffalo to become manager of the Western Union office. Here, he dispatched the first telegraphic message from Buffalo to San Francisco.
In 1864, the 22 year-old married 20 year-old Margaret Louise Drullard, a former Buffalo Seminary student who graduated with high honors. Four years later, George Hayes left Western Union to join with his father-in-law, Solomon Drullard, and a Mr. Brown to create a pipe-casting firm called Brown, Drullard and Hayes, in addition to a venture called the Franklin Steam Forge Company. They were first located along Chicago Street, then in 1870 the firm renamed itself Hayes & Drullard and relocated to 344 Exchange Street between Chicago and Lousiana streets.
In 1883, with the death of his father-in-law, George B. Hayes became the sole owner of the company. In 1892, he moved the company, now called Buffalo Cast Iron Pipe, to 280 Box Avenue, investing $200,000 in a major expansion through a public stock offering. Hayes employed more than 250 workers and, as the only cast iron pipe manufacturer in Buffalo, had an exclusive contract to supply the city's Water Works with cast iron water mains. He also partnered with Sherman Jewett and Sherman Rogers in the Niagara River Iron Company. He was becoming a wealthy man.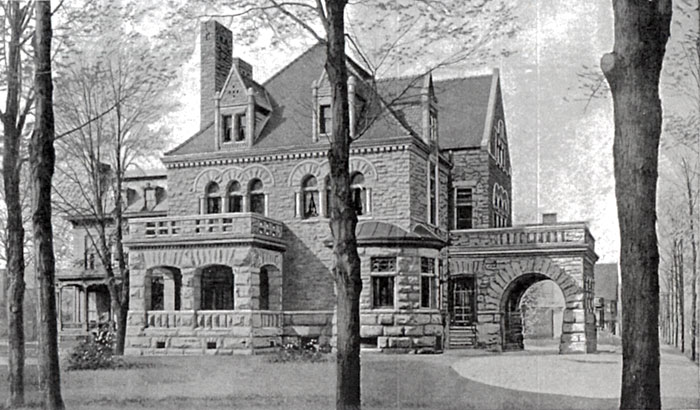 The George B. Hayes mansion, viewed from North Street.
Image source: Our Police and Our City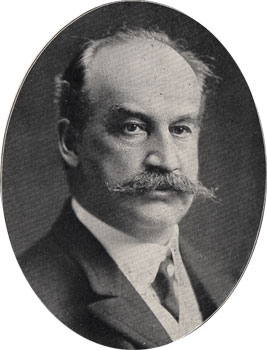 George B. Hayes, 1900
Image source: Men of Buffalo
In 1893, George B. Hayes and his wife engaged James H. Marling to design a home for them at 217 North Street at the corner of Elmwood Avenue. Marling, originally from Toronto, had partnered with J.L. Silsbee and then with Herbert C. Burdette before becoming partners with James A. Johnson in 1892. He died in May, 1895. The Inland Architect and News Record of June, 1895, recalled that, "While Mr. Marling was the architect of buildings for the Buffalo industrial fair of 1889, the Saturn Club, The Gees, and several other business blocks, it was mainly in the line of residence design tha this best work is to be seen."
The Hayes family, with eight children, would occupy this home until 1938.
George B. Hayes mansion, 1915. Image source:
Beautiful Homes of Buffalo*
1895 City Atlas, highlighted area showing the Box Avenue location of Buffalo Cast Iron.
On this site in 2013 is an apartment complex.
1907 photo of the Box Avenue location of the renamed United States Cast Iron Pipe and Foundry Company.
Image source: Buffalo of Today (1907)
Cast iron pipe for water, steam and gas, the standard material used in the 19th and early 20th century, is durable and long-lasting. Buffalo's cast iron water pipes, many of which were installed with products from Hayes' company, have an average useful life of 120 years (which means they are at the end of their lifespan in 2013). Hayes used the Scotch method to cast pipes, used by few in the U.S. at the time. It cast pipes vertically in pits, the molds being lined with sand. It was very labor-intensive and output was slow. When Hayes, Drullard and Brown began in 1868, their daily output was just 25 tons. By 1911, the company's daily production was 120 tons. The company produced pipes from 2 - 12 inches as well as water main pipes of 35 inches able to withstand 300 pounds of hydraulic pressure.
Their standing contract with the city's water works brought in much of the company's annual income. For the years 1883 - 1885, the annual purchases from Buffalo Cast Iron were (in 2012 dollars) between $1.5 andf $2.8 million dollars each year.
In 1899, George Hayes initiated the merger of the twelve leading cast iron foundries in eight states. The new trust was called the United States Cast Iron Pipe and Foundry. This near-monopoly of the cast iron pipe business, which marketed to municipalities and industries, controlled seventy-five percent of the cast iron production capacity in the United States. (The company renamed itself "U.S. Pipe" in 1929 and is still in business, but not in Buffalo.)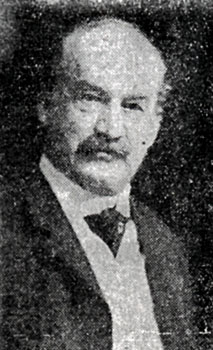 George B. Hayes in later years. Image source: BECPL
George B. Hayes served on the board of directors of his new company until he died in 1925, having also served as president from 1902-1911. He was also on the board of directors of Manufacturers and Traders Trust Company and the Columbia National Bank.
In Buffalo, an editorial said that the "earnest and lasting interest taken by Mr. Hayes in education, sciences and art was one of the outstanding features of his career" and called him a "sterling citizen." Others described his "practical experience, his cheery optimism and his kindly companionship." Often emphasized was his lifelong devotion to learning and the educational value he brought home from his foreign travels.
He was an active member of the Buffalo Academy of Fine Arts, the Society of Natural Sciences, was former president of the Buffalo Library, a trustee of the Buffalo Seminary, former state commissioner of prisons, life member of the YMCA. He was a mason, a Republican and a member of Trinity Episcopal church.
His wife, Margaret, had predeceased him by two years and the eight children divided the $1,000,000 ($12,954,000 in 2012 dollars) estate equally. Son Drullard Hayes was manager of the foundry in Buffalo; daughter Florence, who had been his companion and confidant for many years, was executrix of the estate.
George B. Hayes mansion viewed from Elmwood Avenue. Image source: private collection
The same view in 2013
During the Depression, when so many mansions were demolished to save on taxes, the Hayes mansion was no exception. In 1938, it was sold for $17,000 to Robert C. Troup of Troup Engineering Corporation who promptly razed it. The site in 2013 remains empty and is used for parking.