Edmund Hayes was born in Farmington, Maine in 1849. He attended Dartmouth College in intermittent fashion because he needed to earn sufficient tuition by working at farms or teaching. After completing two years, he transferred to MIT, graduating in 1873 with a civil engineering degree. After short stints with the Passaic Bridge Company in New Jersey and the Erie Railroad, he came to Buffalo to join George S. Field who would become a lifelong friend and brother-in-law, at his Morrison, Field Bridge Company. With the rapid expansion of railroads across the U.S. during the 1870s and 1880s, bridge building companies had the opportunity to make a great deal of money. Part of the way they accomplished this was to combine to create larger companies and extend manufacturing facilities. The company Hayes worked for became the Central Bridge Company. Hayes created his reputation in 1883 when he persuaded the Michigan Railroad that a competitor's design for a bridge spanning the Niagara River in Niagara Falls would not stand the strain of train traffic. He proposed that the railroad use his cantilever design instead. His design would be the first steel span cantilever bridge across the Niagara and one of the largest steel span bridges constructed at that time.
The company combined with two other small bridge companies to form the Union Bridge Company in 1884; Edmund Hayes was part owner. He and George Field supervised the 8-acre manufacturing site at the foot of Hamburg Street in Buffalo where 200-300 skilled workers manufactured 15,000 tons of material for bridges that was shipped all over the world.
Another New York achievement for the Union Bridge Company was the Poughkeepsie Bridge over the Hudson River in 1888, a bridge that has been saved from demolition by transformation into the Walkway Over the Hudson State Historic Park.
In 1891, the Union Bridge Company was sold to the U.S. Steel Company (which would later become American Bridge Company, still extant). Edmund Hayes had become a capitalist and celebrated by taking a long overseas trip with his wife
.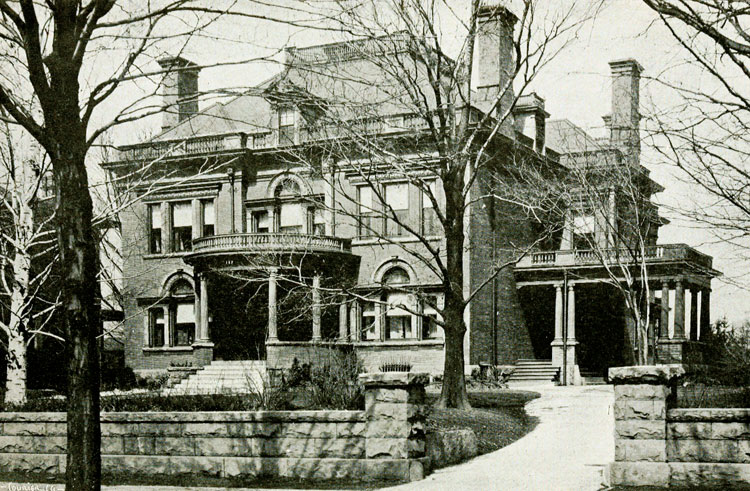 147 North Street, 1892. It was of yellow brick ("old gold") and "chocolate brown" contrast elements. Image source: LOC
View a modern image of the site
here.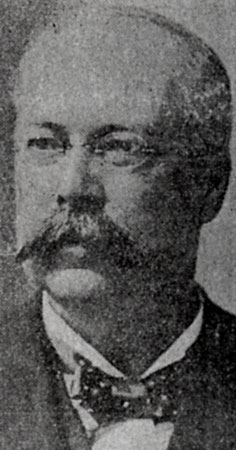 Edmund Hayes was nearly six feet tall with a baritone voice. His college friend, Buffalonian Randolph McNutt, said that Hayes was a deep thinker, very studious and, though not an athletic star, he was an excellent team member.
After moving to Buffalo, he was introduced to his colleague George Fields' sister in-law, Mary H. Warren. They were married in 1878 and lived for a while on Irving Place. In 1891-92, they had Green & Wicks design a home for them at 147 North Street, two doors from the Metcalfe House. They had no children but enjoyed entertaining small congenial groups that often included celebrities from art, literature, music, and science. They collected art and had an extensive library. One of Buffalo's early golfers, Edmund Hayes also enjoyed fishing and traveling.
When they returned from their travels and moved into their new home, Hayes began to invest his money with John J. Albright. Together, they founded the Buffalo Bolt Company in 1897, which had a long profitable life in North Tonawanda. They also invested in the Ontario Power Company, located in Canada, during the same period that Jacob Schoellkopf was doing the same on the American side of the falls. Hayes, one of the early adopters of the automobile, funded his own company to manufacture Locomobiles and Simplexes.
For much of his later life, he was called General Hayes, an honorary military title he acquired from the time he served as chief of the engineering division of New York State.
He and his wife were philanthropists, particularly after 1891. He served on the board of the Buffalo Fine Arts Academy and, in 1892, gave $5,000 to assist the school in offering classes. From 1915 until his death, he annually supplemented its budget to cancel annual debts.
In 1906, when St. Paul's Episcopal Church was experiencing critical financial distress, he offered $50,000 to the church if others in the congregation would collectively match that total. They more than matched it and the church was able to remain in Shelton Square.
And, in 1913, when Dartmouth invited him to the 40th reunion of the class he would have graduated with and presented him with a Master of Science degree, he returned home and sent them a check for $10,000.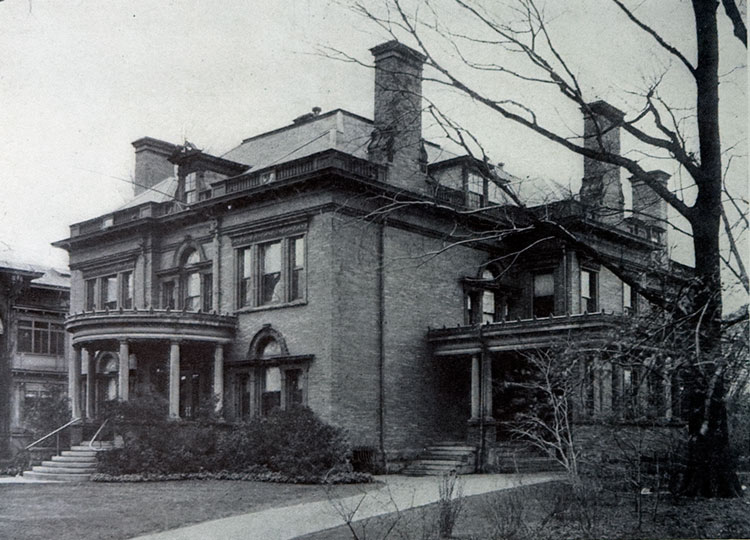 147 North Street, c, 1925. Eventually, the UB Alumni sold the home to commercial interests. It was demolished.
The site is part of the Jacobs Management Center grounds. Image source: UB Archives
In 1922, the Hayes moved from their home and sold it to the University of Buffalo Alumni for $100,000 as their first clubhouse. Edmund Hayes died October 19, 1923 of a stroke. His wife, Mary, died November 18, 1924. The list of their bequests was long. Their artwork went to the Buffalo Fine Arts Academy, plus $75,000 for the future purchase of art. St. Paul's church received another $50,000; Edmund Hayes was the longest-serving vestryman with 34 years service. Buffalo General Hospital received $10,000; Children's Hospital, $10,000; Home for the Friendless, $5,000; the YMCA, $10,000; the Farmington, Maine Old South Church, $10,000; the Farmington Library, $20,000. Upon his wife's death, the remainder of their estate was to be divided between the University of Buffalo and Dartmouth College.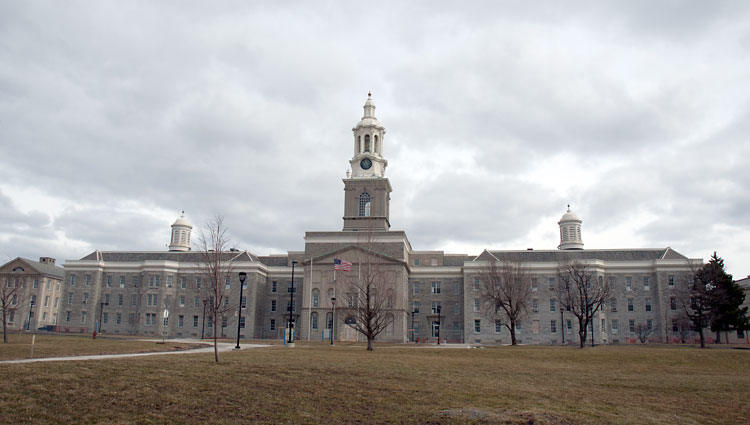 Hayes Hall, UB South Campus
Edmund Hayes served on the U.B. Council during the years when the university was trying to start a College of Arts and Sciences. The Erie County Almshouse property at Main and Bailey had been purchased in 1909, but the buildings needed renovation. After Mary Hayes died, U.B. received $389,000 from her estate as spelled out in her husband's will. This largess was nearly all that was required to transform the building above into classrooms and offices. The Council ensured that Edmund Hayes' contribution to the University would be remembered by naming the building Edmund B. Hayes Hall.