William J. Palmer, Inc.: Pioneer Buffalo Florist
---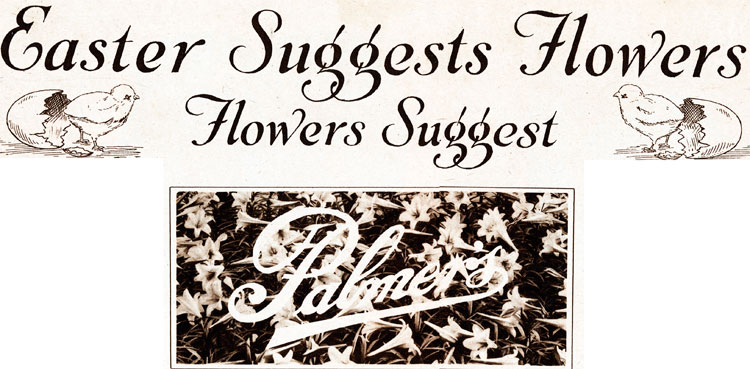 Part of full page ad in March 25, 1923 Courier.

William J. Palmer, founder.
Image source: Buffalo Express

William J Palmer, who emigrated from Cheltenham, England in 1854 when he was 19 years old, was one of two Buffalo pioneers in the florist industry. He came directly to Buffalo to become gardener for the A. Porter Thompson family, whose grand mansion at the corner of Niagara and Porter Avenues had gardens, a conservatory, and grapery. In 1860 Palmer purchased lots of city land between 13th and 14th Streets, adjacent to what is now Symphony Circle. He built greenhouses there and added to them over the next twenty years. He also bought land out in rural Lancaster and began building greenhouses there, as well. By the 1880s, his city property had become in demand for expensive homes and he sold the greenhouses there, concentrating instead on expanding his Lancaster property. His shop at 304 Main Street, opened in 1883, was his retail outlet.

What did he grow? Cut flowers, which had become increasingly popular among upper and middle class homeowners in the late Victorian period. Carnations were most popular, as well as violets and lilies.

According to his friend and fellow pioneer florist, William Scott, Palmer, with a "robust and cheery nature," was one of the best known florists in the country when he died He was greatly mourned in the young industry. At his death, the company was called William J. Palmer & Son.
William J.H. Palmer, only son of William Palmer, was 31 years old when his father died. He had begun working for his father at age 18 at the 304 Main Street store. He was one of the founders of the Florists' Telegraph Delivery, FTD and also introduced orchids to Western New York, flowers previously thought to be too difficult to cultivate in our climate. He built a special greenhouse devoted to them and they became popular.

The construction of what the company billed as "America's Most Beautiful Flower Shop" in the new Delaware Court Building in 1917 was the high point of the company's history. The location was called the "Fifth Avenue Section" of Delaware Avenue and the design of the store lived up to its neighborhood. The store was 100 feet deep, a greenhouse/conservatory extended another 135 feet behind that. It featured two large flower cases, a cold room in the basement for more stock, and a new "Help Yourself" system of selling flowers. For 10 cents, deposited into a cash receiver, a buyer would automatically receive a rose. It proved very popular, generating an average of $5 per day in sales.

William J.H.'s son, Mark Palmer, seen inset below, was the retail manager of the Delaware Avenue shop and eventually supervised all the retail locations. His father devoted his attention to the Lancaster greenhouses beginning in 1924.


William J.H. Palmer
Image source: WNY Heritage
The greenhouse/conservatory of the Delaware Avenue Florist Shop. Image source: Buffalo Courier
1925 Sanborn map with the Palmer's location highlighted. The conservatory (greenhouse) was added to the rear of the shop.
Ad from the Buffalo Polk Directory, 1939.

People purchased cut flowers in the early 20th century for the same reasons today: weddings, funerals, Christmas, Easter, graduations, and other special occasions. The most desriable rose in 1900 was the American Beauty and also the most expensive kind of rose; it sold for $18 - 24 per dozen. (Bridesmaid, Bride, and Meteor roses sold for $3.50 - $5.00 per dozen.) Carnations, the most popular cut flower, sold for $1 a dozen (ordinary) to $3 (fancy). Poinsettas were popular Christmas plants, and bulbs were "forced" to provide plants out of season. Chrystanemums, sweet peas, hydrangeas, lilies of the valley, smilax, etc. were available in winter.

Mark Palmer remarked in 1926 that he often served young women whose mothers and grandmothers had ordered Palmer's flowers for their commencement and wedding events.
In the Roaring Twenties, William J.H. Palmer and his son Mark added a second Main Street Store at 522 Main, opened the Delaware Avenue store, and leased the flower shop in the new Statler Hotel when it opened in 1923. Image source: private collection.
Image source: Buffao Courier
Another view of the Palmer greenhouses in Lancaster. Image credit: Lancaster Historical Society
The Depression reduced the demand for cut flowers and houseplants began to be popular as they had in Victorian times. In 1939, the lease of the Statler Hotel flower concession was up and Palmer's did not renew it. That year William J.H. Palmer died at age 70. His wife, Laura Mark Palmer, became president of William J. Palmer, Inc. Son Mark left the family business to pursue a career as a commercial photographer.
In January, 1944, the company notified the Village of Lancaster that it was abandoning the greenhouse complex, owing $9,000 in taxes and water bills. The company treasurer, Lawrence Gilson, said that a hothouse tomato crop worth $5,000 had failed because the caretaker did not maintain the proper temperature. The village could find no one to use and heat the facility over the winter, causing it quickly to fall to ruin. It was demolished; the only reminder of the vast complex left is the name of a dead-end street, Palmer Place.
By 1960, the only Palmer's location still open was at 304 Main Street. Mrs. Laura Mark Palmer died in 1967. The company no longer exists.
Thanks to Lancaster Town Historian Ed Mikula and volunteer Marie Schu for their assistance with this pictorial. And thanks to genealogist Kate Johnson for her assistance with Palmer family links.