The Curtiss Building: Northwest Corner Franklin & Huron
---
The northwest corner of Franklin and West Huron Street was part of a residential neighborhood in the mid-19th century. According to Frank Severnance (Buffalo Historical Society) in 1912, the location first saw a home constructed by Thomas F. Rochester, M.D., grandson of the city of Rochester's Col. Nathaniel Rochester. In 1853, at the age of 30, Dr. Rochester moved to Buffalo to join the faculty of the Buffalo Medical College of the seven-year old University of Buffalo. He did not live or have a medical office in this building, however, but lived four houses farther north.
In 1860 the home was purchased by Burrall Spencer, a dogged entrepreneur from Livingston County who lived in Buffalo for a time. He arrived early and invested in the grain business on the docks. After quick success, his enterprise failed and he owed $40,000. He then joined his brother in Oak Orchard as a partner in a distillery. It was successful until his brother died without a will, which left the business to his father. After Burrall settled that and achieved control of the business, he made a success of it and joined with another to expand distillery operations in two other locations. He then diversified and went into dealings in wool, grain and petroleum. Spencer was also among the founders of the Rochester Iron Manufacturing Company. That company failed in 1878 and, to cover his $270,000 debt, he sold off all his property. He lived until 1886, aged 75, in Spencerport, leaving two sons and daughters in Buffalo.
By 1880, Charles Gould Curtiss had purchased the home.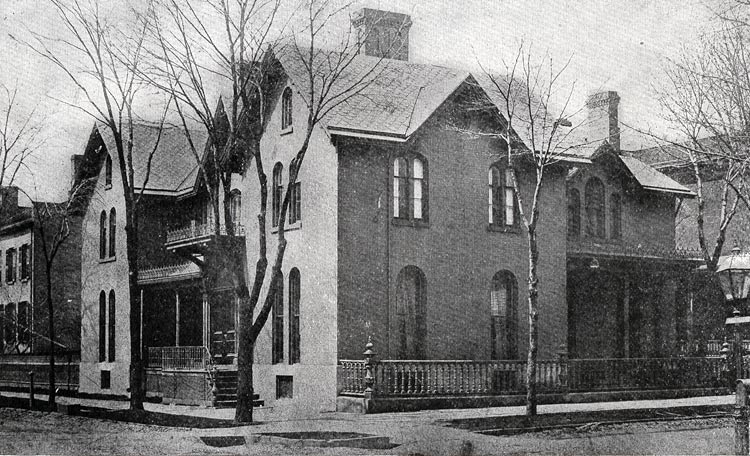 Northwest Corner of Franklin & West Huron as it appeared when a residence. The address was 63 West Huron. Image source: Picture Book of Ealier Buffalo.

Charles Gould Curtiss
Image source: Buffalo Express Album 1893
Charles Gould Curtiss, born in 1827, was the youngest of ten children in his family in Utica, New York. By his teens, he was operating the first newsstand in a railroad station in Utica. By age 23, he was operating a produce business in Utica which attracted the attention of a wholesale grocer in New York City, who brought him into business. After a time in that city, Curtiss moved to Buffalo in 1857 where he first worked in the insurance business but soon joined his brother Lyman on the dock on Prime Street where they operated Curtiss & Co., dealers in flour and produce. He was a charter member of the Merchants Exchange and became president of the Board of Trade in 1870. By 1873, he was operating his own barley and malt business in the Board of Trade building (which continued in the family until his grandson Colman was forced to stop because Prohibition eliminated his market). He was also a director of the Third National Bank and a trustee of the Buffalo State Hospital for the Insane.
He and his wife Amelia raised four children, two of whom survived him, Alexander and Harlow. His family fondly remembered that he daily rode his horse in Delaware Park, collected good paintings, and maintained a farm on Delavan Avenue east of Main Street where he raised chickens and had a cow.
He died in his home in 1893. The property remained in the family but eventually was used as a restaurant. Curtiss Street, running between William Street and Broadway, was named after him.
63 West Huron after 1900. The recently constructed
Miller's Livery
looms in the background.
Image source: Picture Book of Earlier Buffalo

Harlow C. Curtiss
Image source: Men of Buffalo, 1901
Harlow Clarke Curtiss was born in Utica in 1858, third child of Charles and Amelia Curtiss, and came to Buffalo in 1860. After attending pubic and private schools in Buffalo, he attended Trinity College in Hartford, Connecticut and returned to Buffalo determined to become a lawyer. He joined the firm of Bissell and Cleveland, possibly because his father was one of Grover Cleveland's boosters. In 1883, he was admitted to the bar and eventually practiced on his own. He married Ethel Mann, daughter of Dr. Matthew Mann, known through the years as the physician who intially treated the wounded President McKinley at the Pan-American Exposition. (She was born in Vienna and, after stays in New York City and Hartford, Connecticut, came to Buffalo with her family when her father was recruited by the University of Buffalo Medical School for a professorship.) In 1911, they lived at 100 Lincoln Parkway.
Harlow Curtiss' talents extended beyond the law, however. He was a professor of medical jurisprudence for a time at Niagara University. But his lasting contributions to Buffalo were in the field of real estate development. The property at Franklin and West Huron was an early effort. The old home was demolished in 1912, along with the vine-covered home next door, and the first Curtiss Building was constructed. A local architect, Paul Mann, who also happened to be Harlow Curtiss' brother-in-law, designed the six-story office building with a steel skeleton and glazed terra cotta facing. When it opened in 1913, the building attracted numerous tenants, including lawyers, stationers, and the Kittinger Furniture Company.
Ethel Mann Curtiss, titular owner of the building, sold it in 1920 to Buffalo financier, Willam Morgan, owner of the Porter Norton home for a time. Harlow Curtiss would become a major developer of Delaware Avenue, beginning with a new Curtiss Building at Delaware and Tupper Streets. He owned apartment houses at 1141-49 Delaware Avenue, 230 North Street, and the Stratford. He died in 1933. His wife, Ethel Mann Curtiss, whose name is currently associated with their home at 100 Lincoln Parkway, died in 1939. She had been president of the Buffalo Council of Camp Fire Girls.

Edward J Eisele
Image source: Archivaria

The Curtiss building was again sold in 1921, to the wholesale jewelry company, King and Eisele, after which time it became known as the Eisele Building. The founder, Edward J., came to this country in 1854 at age 16 from Germany as a goldsmith. His partner, W.F. King, died in 1895 and Eisele's son, Edward A. became general managing partner in the business. Edward J. Eisele died in 1919.

The company designed and manufactured rings and pins in a factory at North Division and Washington Street; it was the oldest wholesale manufacturing business between New York and Chicago. It occupied three floors of the Eisele building but, during the Depression in 1937, the Erie County Savings Bank foreclosed on the building. The company, then known as E.A. Eisele Co., continued its tenancy, but only occupying the first floor. Edward A. Eisele died in 1939 at age 7


Edward A. Eisele
Image source: Buffalo Express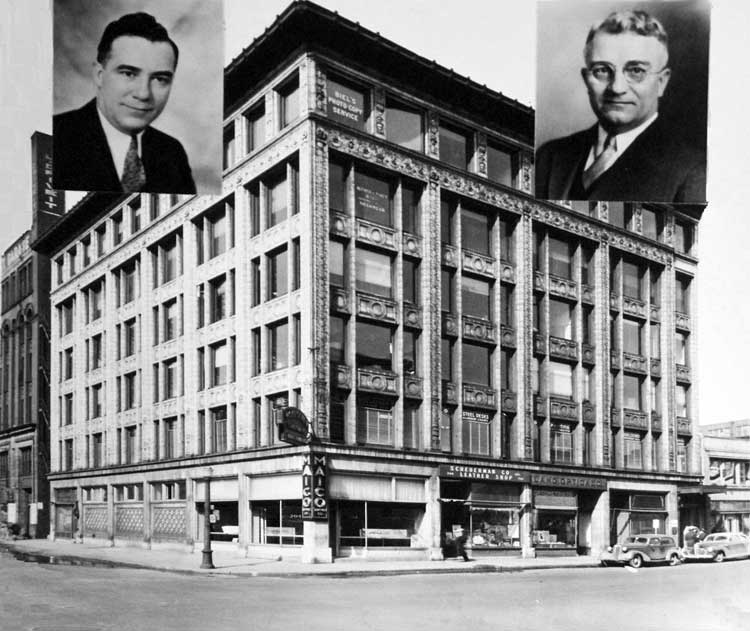 Newspaper photo, 1945, at the time of the sale to Hoelscher's. Image source: private collection
In 1945, the Erie County Savings Bank sold the Eisele Building to Hoelscher's, Inc., an office supply and furnishings dealer. The business had been founded in 1925 as Hoelscher Stationery at 501 Washington Street by Joseph T Hoelscher (upper right in photo above) and Louis H. Hoelscher (upper left). The building became known as the Hoelscher Building.The company used the building as their headquarters until relocating to Cheektowaga in 1960. (The company moved to John Glenn Drive in Amherst in 1979 and was acquired by Eaton Office Supply in 1988.) Hoelscher's retained the first floor as a sales room for office equipment.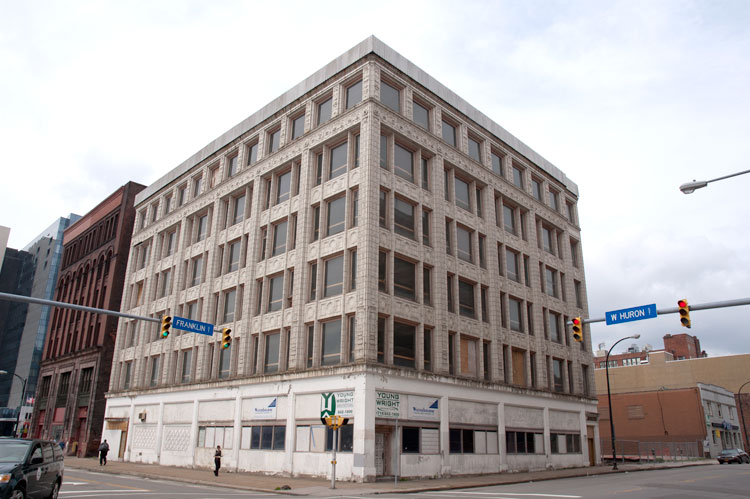 2012 photo
From the 1960s to the early 1990s, the building was occupied in part by Catholic Charities and the Workmen's Compensation Board. Much of the building was unoccupied during those years and from the early 1990s, the building has been without tenants.

2012 Detail

2016 Cornice Restored
The Curtiss building was listed on the National Register of Historic Places in 2008. Current owner, local developer Mark D. Croce, renovated the building and opened his Curtiss Hotel, a 68-room luxury boutique hotel, in 2017.